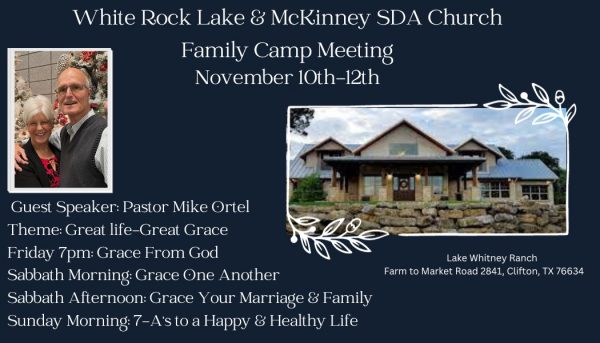 Guest Speaker: Pastor Mike Ortel
                                                 Theme: Great Life - Great  Grace
                                                      Friday 7pm: Grace from God.
                                            Sabbath Morning: Grace One Another
                               Sabbath Afternoon: Grace Your Marriage and Family
                                   Sunday Morning: 7 A's to a Happy & Healthy Life
                 SEE BELOW FOR ROOMS THAT HAVE ALREADY BEEN BOOKED. 
How to register:
View a vacant room below. 
Email whiterocklakesda@gmail.com to ensure the room is still available. We will respond quickly confirming your room is available. 

Once you have confirmed that the room is available,  pay your room rate and meals to Local Church Offerings under Local Church Budget at  https://adventistgiving.org/donate/ANWF29  Please pay promptly. Your room will not be reserved until it is paid. If your room is not paid it is still considered available for others to rent so please pay promptly.

Once paid, please email your dollar amount to the the church secretary at: svgarcia15@gmail.com Please state that the donation is for The Lake Whitney Ranch Camp meeting. This will notify the church secretary to pay the campsite for your room and meals. 

If you have any questions please text or call 469-360-2268.
                                  ONLY 6 ROOMS LEFT AS OF 10/15/23 (SEE BELOW)
                                                    LAKE WHITNEY RANCH POLICIES
PROGRAM: 
- Starts: November 10th at 7pm
- Finishes: Sunday November 12th at 12:00pm
ROOMS:
- Room Rates are per night.
- Rooms are first come, first serve. Several rooms have already been booked. Email us at: whiterocklakesda@gmail.com to see which rooms are still available. We will respond promptly.  
- Once you select a room, it will NOT BE RESERVED UNTIL YOU PAY FOR THAT ROOM. Rooms selected but not paid for will be available to any other registrant, therefore pay for your room promptly.  Rooms and meals must be paid in full. No deposits will be taken to hold rooms. 
MEALS:
- Only 2 Meals will be provided  for the entire camp meeeting. Meals will only be served on Sabbath November 11th at 1pm & 6pm. Each meal costs $16 per person per meal.  
- You are responsible for all other meals.  
PAYMENTS:
- You may pay your housing and meal fees to the White Rock Lake SDA Local Church Offerings under Local Church Budget here: https://adventistgiving.org/donate/ANWF29
- Once you have paid, please email the church treasurer, Sulema Garcia (svgarcia15@gmail.com) to notify her that you have paid your fees.
- The Church will contact Lake Whitney Ranch to book your room and pay your meal fees.
TRANSPORTATION:
- You will provide your own transportation to and from the camp site.